Fertilization and

Weed Control
The Best Curb Appeal Money Can Buy
A lush, green lawn complements your landscape and creates a beautiful living focal point for your property. The appearance of your turf either enhances or undermines the curb appeal of your home or business. A Zeppa's lawn boosts the health of your plants which then produces vibrant vigorous turf. Your gorgeous green grass is the foundation of your property.
Positive Benefits of Green Turf
Healthy, green turf provides many benefits such as:
Grass, trees and green spaces reduce stress.
Turf filters water and improves the quality of groundwater.
Grass decreases solar heat and keeps the temperature above the turf cooler than concrete or asphalt.
Turf reduces noise by absorbing sound.
Grass is a living plant producing oxygen.
Turf reduces runoff and erosion.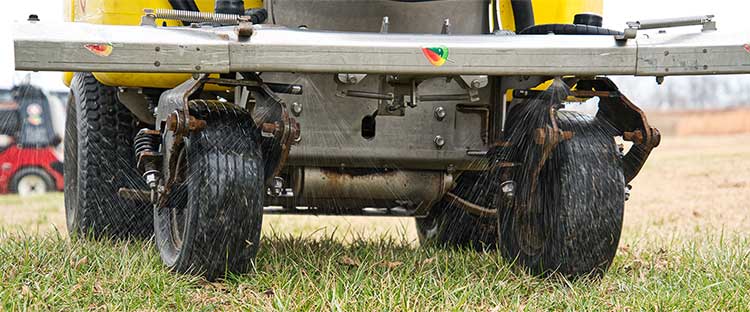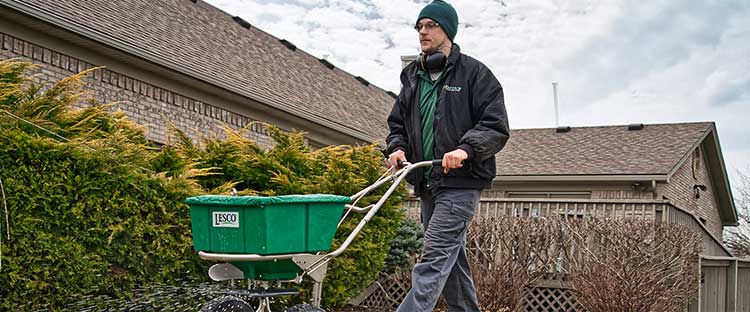 Apply Fertilizer and Weed Control For a Healthy Lawn
At Zeppa's we know that fertilization is the foundational building block of great lawn care. Grass needs nutrients to survive which most soils lack. A healthy lawn is better able to battle with the common culprits of turf attack like drought, disease and weed infestation. Fertilizer is food and nutrition for the grass. Fertilizer is described by its three components of nitrogen, phosphorus and potassium. These ingredients are listed in "parts" for example 20-5-10 would be a blend containing 20 percent of nitrogen, 5 percent phosphorus and 10 percent potassium. Zeppa's applied high quality seasonally blended lawn fertilizer that provides attractive results.
You don't want weeds intruding on your turf masterpiece. Weeds are hearty and aggressive. Zeppa's uses both pre-emergent and post-emergent herbicides to control weeds. The "pre" before germination and the "post" after germination weed controls attack at different phases of the weed plant's life cycle. Pre-emergents control the germination of seeds, post work after germination. Our products control crabgrass and broadleaf weeds. Broadleaf weeds are plants like: dandelion, clover, chickweed and henbit. Some of the harder to control weeds like ivy and violet will be minimized and require repeated treatments. As you can see there are a lot of different products available to control weeds. We research and investigate weed control products so you don't have to. We eliminate unsightly weeds by applying weed control at the proper time, at the proper rate.
At Zeppa's we have following structured Lawn Fertilization, Weed Control, Tree and Plant Care schedule, learn more about our dedicated approach and proper Fertilization and Lawn Maintenance timelines:
Lawn Care Fertilization Schedule
Tree and Plant Fertilization Schedule
Our Expertise and Certifications
The skilled Zeppa's technicians who apply the fertilizer and weed control are licensed and certified by the Kentucky Department of Agriculture. This involves on the job training, passing and examination and continuing education classes. Additionally we hold specialized certifications focusing on turf, golf course and forestry. Your Zeppa's applicator will post a flag on your property boundary and you will simultaneously receive an email notification when we visit your site. That email will list the products we used, share tips and inform you of the technician's name who serviced your location.
You will see results with Zeppa's lawn fertilization and weed control program. We apply top quality products, at the right time, in the proper amount to give you thick vibrant carpet of turf. The cost per application is based on the square footage of the turf areas of your property. Call us today to find out more about of lawn fertilization and weed control program.