When you choose a home you use a combination of logic and emotions to make one of the largest purchases of your life. You are proud of your choice, and your home symbolizes who you are or at the very least makes a statement about your personality. You want it to look great and a crisp, patterned mow will do just that. Who says you can't have a mowing showpiece striped like a professional sports field?
Our Angle Cutting Expertise
Just how do we put those pinstripes down when we mow? Good question! At Zeppa's we start by having professional commercial grade mowing equipment made by Exmark. It's easy to mow a masterpiece with machines that Exmark "made to deliver a quality cut that is second to none." The mowers we use are legendary cutters respected by industry professionals. Our smaller supporting tools are all manufactured by Stihl. Using top of the line equipment to provide top of the line quality is a value Zeppa's prioritizes by planning and budgeting to purchase the best commercial equipment in the market.
Having great equipment is only the beginning of what it takes for a Zeppa's mow. We have a systemized maintenance plan for our equipment which includes keeping the blades sharp. When blades are sharp they slice right through your grass, when they are dull they will rip and tear your grass giving it an uneven choppy look that weakens the plant. Zeppa's invests in great equipment and takes care of it, and fully utilizes its potential for you.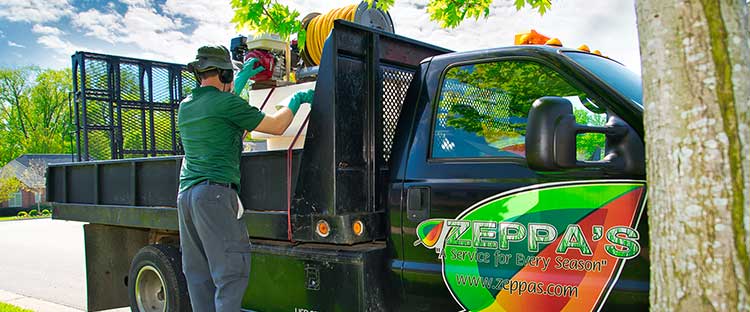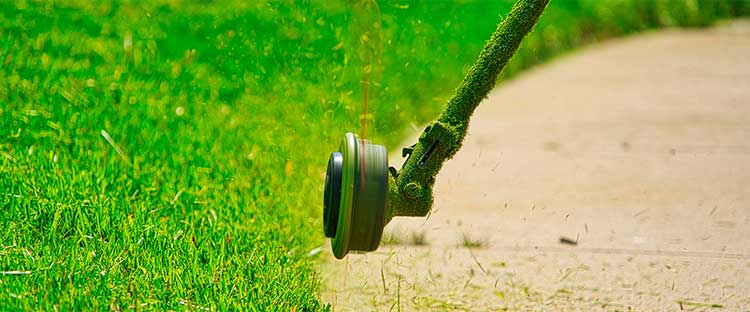 Skilled Services Delivered by Skilled Team Members
Cutting edge equipment means nothing if you don't know how to use it. Training is one of Zeppa's core values. Our training occurs as a group and out in the field when our two person teams collaborate to preformed skilled mowing. You'll see the difference when our uniformed crew arrives to your property and begins by promptly placing safety cones behind our Zeppa's vehicles. We train for safety and quality teaching our staff the mechanical details of how to do the job as well as holistic plant wellness, the do's and don'ts such as "never remove more than a third of the grass plant."
We've got great equipment, talented team members and there's more behind a classic manicured mowing – proper timing and reliable scheduling. At Zeppa's you can count on us to be there when you need us. Imagine routinely coming home to that crisp ballpark striped lawn? Never worry about having to get out there and do it or make a scheduling phone call. You can count on Zeppa's to keep your lawn mowed and manicured every week.
Our professional mowing prices start at $30, call us today for a quote 502-648-4885.